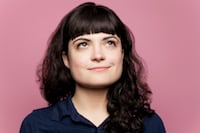 Filed by Jaime Lutz

|

May 23, 2016 @ 12:16am
Throw me to a horde of White Walkers because after the pure joy of last week's "The Book of the Stranger," last night's Game of Thrones was sad as f*ck. "The Door," the first episode of the series directed by Jack Bender (who also directed the best episode of Lost, "The Constant," which involved similar time travel mindf*ckery), was another excellent episode in an increasingly exciting season, even as it left all its characters on perilously unsure footing. If you haven't watched last night's episode yet, don't read ahead. For everyone else, I'll hold the door.
Hodor. Hodor. Hodor.
Bran's plot this week could have filled the whole episode, which is not something you usually can say about a Bran plot. But in the course of an hour, the audience saw the deaths of the Three-Eyed Raven, Hodor, Leaf, and Summer the direwolf; saw that White Walkers have the ability to track someone by touch and interact with greenseers in the middle of their visions; saw that the children of the forest created the White Walkers; and most poignantly, saw how Hodor got his name. In this episode, it also became clear that Bran can actually have an effect on things that have already happened, though only in a time-is-a-flat-circle kind of way—Hodor had always lost his mind through Bran meddling in time, and so Bran was always going to meddle in time to complete that cause-and-effect. Bran can't change the past unless he already has changed the past. Whoa, dude.