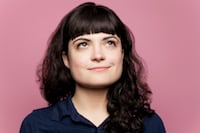 Filed by Jaime Lutz

|

Jun 13, 2016 @ 12:24am
Perhaps the most unusually paced Game of Thrones episode of the season, "No One" turns Arya's plot into a chase sequence out of a horror film and reunites two doomed almost-lovers, but still saves its big moments for off-screen, including all three of its major deaths. However much it varied between clunky and delightful, there was one thing this hour made clear: for the next two episodes, the show will be choosing violence, and lots of it. Warning: spoilers for the most recent episode of Game of Thrones ahead.
Arya kills no one.
Ugh, Essie Davis was great and I wanted her to be Arya's new mom. Instead, she's brutally murdered by the Waif, who chases Arya through Braavos in a long, stunningly directed sequence... only for Arya to finally kill the Waif offscreen.
I wanted to see that fight.
Imagine: Arya extinguishes the candle because she spent the first half of the season blind; she can fight without sight, and she's not sure that the Waif has the same advantage. Still, she's injured; imagine the kind of cunning she'd have to use to outsmart this girl. Maybe she could even make the Waif feel fear. Maybe she could even make the Waif admit her real name; admit that she is not no one, that no one is no one.