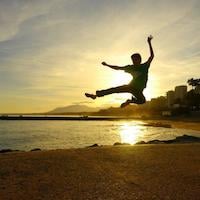 Filed by Mitchell Friedman

|

May 23, 2016 @ 10:05am
After "The Door," a shocking fifth episode of Game of Thrones that saw the death of your favorite people, your favorite animals, and the White Walkers at the beginning of the North's most rocking white-out party, people turned to Twitter to grieve. And to make tasteless jokes about fictional people who feel very real. Warning: spoilers, duh. Here are the 21 funniest tweets about Hodor's last stand and everything else that happened in "The Door."
1.
If Game of Thrones proved anything tonight it's that a true gentleman always holds the door for you.

— erin whitehead (@girlwithatail) May 23, 2016
2.
Ah yes finally we got the Game of Thrones mystery we all cared about solved in a melodramatic reveal: Why the large man said the famous word

— Luke O'Neil (@lukeoneil47) May 23, 2016
3.
I met George RR Martin in 2006 and I'm haunted by the fact I could have prevented millions of Game Of Thrones tweets by murdering him.

— Adam Wilson ☕️ (@theleanover) May 23, 2016
4.
I guess last night's Game of Thrones settles it. Chivalry is now officially dead. #HoldTheDoor

— OhNoSheTwitnt (@OhNoSheTwitnt) May 23, 2016