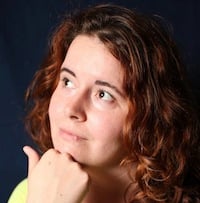 Filed by Aimee Lutkin

|

Jan 23, 2016 @ 2:00pm
Actress Jenna Fischer, who most famously played Pam on The Office, was on an episode of What What Happens Live this week answering fan questions. One caller wanted to know how real the chemistry between her and John "Jim" Krasinski was, and her response sent hearts palpitating across America. After all, Pam and Jim are one of the cutest couples in TV history. Everyone wants that to be real, and Fischer strongly insinuated that it was.
She says:
John and I have real chemistry. There is a real part of me that is Pam, and a real part of him that is Jim, and those parts of us were genuinely in love with one another. But in real life we aren't totally Pam and totally Jim, so in real life we're not the perfect match. So it's a really complicated thing, but he was like a type of spouse that I had for a long time — he was my partner.
So, did they kiss IRL, or what? Fischer probably just means that she and Krasinski pretended to be in love for so many years that they were essentially partners on set. A well-cast couple is usually made up of people who are attracted to each other on some level, but when the cameras are off, they go home to someone else. Oh well. Looks like it's time to rewatch the most romantic and stupid wedding ceremony ever aired on television: