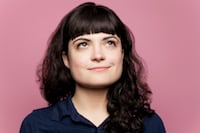 Filed by Jaime Lutz

|

Jan 27, 2016 @ 5:45pm
Josh Gad—a man who can really sing, as proven by his roles in the Broadway show Book of Mormon and the omnipresent children's movie Frozen—is doing some fake singing for tomorrow night's Lip Sync Battle episode, and he's doing it as your future president Donald J. Trump, singing the classic masturbation anthem "I Touch Myself."
He even makes out with another Trump, played by The Big Bang Theory actor Johnny Galecki.
Ironically, the song "I Touch Myself," performed by Divinyls, is now used in breast cancer campaigns to encourage breast self-exams, which may be the only kind of health care women can get when Trump is president.