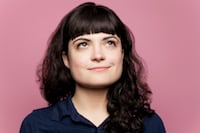 Filed by Jaime Lutz

|

Dec 14, 2015 @ 1:32pm
This year was huge for late night television, or as it should more realistically be called in 2015, "television you watch YouTube clips of the following day." Two of the best late night TV hosts ever, Jon Stewart and David Letterman, went off the air this year. Stephen Colbert, Larry Wilmore and Trevor Noah all started new shows in that same time. In this insane whirlwind, there were a ton of hacky and stale late night moments that got way too much attention (that's one way to, say, take the focus off of Going Clear painting you as a sociopath). But there were also some moments that were genuinely affecting, funny, or (gasp!) unscripted.
12. Jimmy Fallon blows a chance to date Nicole Kidman.
It's always nice when Jimmy Fallon, a comedian who probably got his start as the popular kid at your high school, is taken down a peg. Here, he seems genuinely shocked to learn that he almost had a chance with your favorite Virginia Woolf impersonator.
11. Jon Stewart breaks down Netanyahu's address to Congress.
http://www.cc.com/video-clips/13ry42/the-daily-show-with-jon-stewart-bibi-s-big-adventure