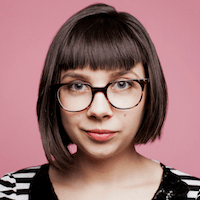 Filed by April Lavalle

|

Jun 30, 2016 @ 10:47am
Game of Thrones spoilers below, of course.
Carice Van Houten, who plays part time hag and full time sorceress Melisandre on Game of Thrones, tweeted a picture of an "awkward farewell" gift for former co-star Kerry Ingram, and the humor is as dark as Melisandre's shadow baby.
In case you need a reminder and are somehow not completely traumatized from the scene, Melisandre needed some good juju and decided the best way to get it would be to burn Shireen Baratheon (Kerry Ingram) at the stake as a bunch of people, including her parents, watched on.
Like, yeah, valar marghulis and all that, but burning a child alive was next-level disturbing, even for Thrones.
The picture that van Houten tweeted is actually a pretty well done photoshop of this picture Ingram tweeted last year, but it looks like The Red Lady prefers a more sinister #tbt to the original.