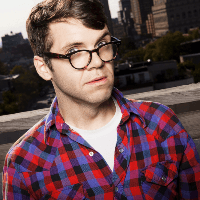 Filed by H. Alan Scott

|

Jul 22, 2016 @ 10:45am
Dreading the end of summer? Hulu is here for you. They just released the titles that are coming and going in August. Now you can avoid going outside for the entire month. But first, watch these ASAP, because they're jumping off Hulu's cliff real soon!
Here's what's leaving Hulu.
Aug. 8:
Houdini and Doyle
Aug. 20:
Bar Rescue
Aug. 31:
Foot Fist Way
OK, enough of that sad news!
Here's what's coming to Hulu.
Available Aug. 1:
You're The Worst: Complete Season 2 (FX)
A.R.C.H.I.E (2016) (*Showtime)
A Good Woman (2004)
The Accused (1998)
Beavis and Butt-Head Do America (1996)

The Best Man (1999) (*Showtime)
Beverly Hills Cop (1984)
Bill & Ted's Bogus Journey (1991)
Bill & Ted's Excellent Adventure (1989)
Black Hawk Down (2001) (*Showtime)
Body (2015) (*Showtime)
The Care Bears Movie (1985)
Chasing Amy (1997)
Clerks (1994)