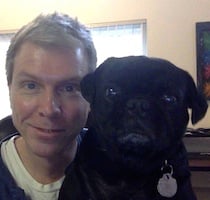 Filed by Jonathan Corbett

|

Dec 17, 2014 @ 4:17pm

Merry what?
Calling the crazy light show on this guy's house "Christmas lights" is a bit of a stretch. It's almost as if the holidays just happened to arrive as YouTuber Tom BetGeorge was put the finishing touches on his Star Wars Rock & Roll Light Show Extravaganza. Sure, there's a large Christmas tree, but there's also a drum kit in the driveway! The candy canes make sense, but look like they've been sidelined in order to make room for the giant, flaming guitar. The display has been featured twice on Good Morning America, as part of a contest called "The Great Christmas Light Fight," but it could just as easily been a story about a technically gifted music fan who has lost the plot when it comes to both Christmas and Star Wars. Nice to look at, though.