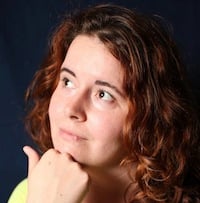 Filed by Aimee Lutkin

|

Mar 31, 2015 @ 11:09am
Trevor Noah was named the new host of "The Daily Show," but his Twitter feed is full of anti-semitic and fat-phobic "jokes."

That's what my face looked like when I read these tweets. (via Getty)
Most of us have something embarrassing on our various social media platforms someone could dig up if we were suddenly thrust into the spotlight. Of course, most of us aren't in line to inherit one of the biggest late-night shows on cable television. Trevor Noah is and he probably should have taken a long hard look at himself and his previously published jokes before the announcement was made. He has so many funny bits. Work that delete button, dude.
Here is some of the offending material:
.WTF DID YOU SAY @Trevornoah? GOT ANYTHING ELSE SMART TO SAY ABOUT JEWS LITTLE #AntiSemite ? pic.twitter.com/XfPdpcuR7o

— DAVID DRAIMAN (@DAVIDMDRAIMAN) March 31, 2015
Side. Eye.
A hot white woman with ass is like a unicorn. Even if you do see one, you'll probably never get to ride it.
— Trevor Noah (@Trevornoah) November 28, 2011
Ha ha. Women are things.
"Oh yeah the weekend. People are gonna get drunk & think that I'm sexy!" - fat chicks everywhere.
— Trevor Noah (@Trevornoah) October 14, 2011
Trevor Noah is handsome, I guess, but dudes who dismiss a certain kind of woman as unattractive to everyone, everywhere, forever, better be more than handsome. They better be the kings of sex. He might be the new host of The Daily Show, but I doubt anyone who spends this much time thinking up jokes about "fat chicks" is getting laid a lot.