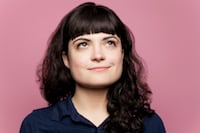 Filed by Jaime Lutz

|

Jul 13, 2016 @ 5:55pm
ASOS called size 16 model Naomi Shimada "plus-sized" in an Instagram post showing the model wearing one of their dresses—only to later remove the label "plus-sized" when commenters complained. They suggested that she should just be referred to as "a model," with no qualifier. "She's normal sized," one commenter said. "Why are you calling her plus sized?! So rude!" said another person. Here is the Instagram post in question:
Indeed, Shimada looks quite slender in that image, but so do many people who are a size 16. In the fashion industry, plus-sized models are size 8 and up, though, to many people, that obviously sounds crazy. Even Hollywood is not as restrictive as the fashion industry—very skinny woman Bryce Dallas Howard notably told reporters she's a size 6.
But after ASOS removed the "plus sized" descriptor from the post, many activists expressed frustration with the brand for buying into the idea that "plus-size" was an insult.
Oh @ASOS you f-d up! I've been spending my plus size money with you for 10 years, but I guess I'll take my whack plus size 💷 elsewhere ✌🏾️

— Christiana Gabriella (@christiana_gabi) July 11, 2016