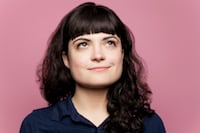 Filed by Jaime Lutz

|

Aug 22, 2016 @ 10:08am
Ever see a beauty "secret" on a blog and think, oh wait, I already know that and I'm barely more beautiful as a result? Us too! Here are some of the worst repeating offenders:
1. Warm your lash curler.
With a blow dryer or under warm water!
2. ...Or curl your lashes with a spoon!
Hint: your lashes never look good curled with something that isn't a lash curler.
3. Use white eyeliner near your tear ducts and on your water line to look more awake.
And make the whites of your eyes appear whiter. If you haven't found this one yet, have you ever even seen an issue of Cosmo?