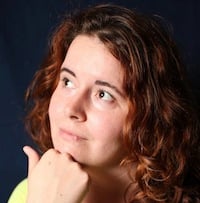 Filed by Aimee Lutkin

|

Nov 19, 2015 @ 9:35am
Blondie Bennett is a 39-year-old woman who has spent over $38,000 on her breast implants, which now measure at 30JJ, a size that sounds completely made up. Blondie says she wants to be a human Barbie. Well, she has competition. There are a lot of people trying to make themselves into Barbie, and most of them seem pretty self-aware. Like, they know everyone thinks they're crazy.
Blondie Bennett don't care! Here she is proudly flaunting her "fake tits."
Unfortunately, there's a dark side to joyfully exhibiting yourself for people's curiosity and arousal. Blondie has appeared on an episode of Botched, looking to make herself even bigger, and doctors didn't recommend it. She's too thin for the operation and the effects of the surgeries have caused epidermal thinning and symmastia, which is when your breasts start to merge together to create a more powerful super boob. Doctors say if she enlarges her implants anymore they might literally explode.
Aside from slowly degrading her physical health, Blondie has also attacked her mental acuity by undergoing hypnotherapy designed to make her more vacant. Much like a doll. She tells the Daily Mail, "People can criticize me but this is who I am: I want my transformation to be head to toe, inside and out." Hopefully, she will achieve her goal before collapsing in on herself.