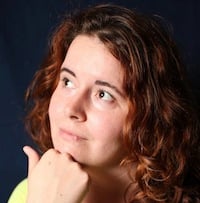 Filed by Aimee Lutkin

|

Nov 13, 2015 @ 5:20pm
Girls who spent their childhood feeling self-conscious about their freckles will look at the new product "Freck Yourself" and say something much more explicit. It's still in development, but the Kickstarter promoting the beauty trend of giving yourself fake freckles has already surpassed its $215,000 goal. Once it's out on the market, you too will be able to look like you've been out in the sun too long:
Of course, it only works if you have fairly light skin. The kit used to create the natural effect of freckles seems to consist of triangular pieces of plastic and some brush-on dye. Kind of like henna? They describe it in their pitch:
Our team has developed a partnership with an industry leading manufacturer. Cosmetix West has decades of experience producing cosmetic products for companies of all sizes (PacSun, GLAMGLOW, Philosophy to name just a few). With this partnership we'll be able to produce a full run of Freck Yourself aligned with the prototype that the team at Cosmetix West has already produced.

The patented Freck Yourself formula & application method has been through countless iterations over the last 12 months. We are confident that this is the easiest application and most effective semi-permanent formula.