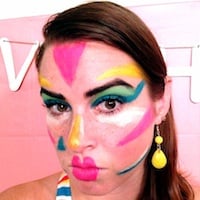 Filed by Ashley Bez

|

Jul 27, 2015 @ 11:23am
She certainly made sure people knew it was her birthday.
So @JLo looked AMAZING at her 46th birthday party: http://t.co/qBbRbySPO5 pic.twitter.com/JBdThzcFTW
— Glamour Magazine UK (@GlamourMagUK) July 27, 2015
And now, the back view:
Jennifer Lopez at her 46th birthday party last night... pic.twitter.com/48ga3pdReq
— TheLADbible (@TheLadBible) July 26, 2015
What is happening? How are there so many cutouts, yet it stays perfectly in place? How does a human woman have a body that looks that good at 46? Is she an alien? A robot? Someone answer these questions! Anyway, here is another great angle of the dress while she is hanging out with French Montana:






It's a Bronx thing !!
A photo posted by French Montana (@frenchmontana) on

Jennifer Lopez has so much confidence she could put a giant Christmas sweater on top of a shower curtain and still look amazing. She could wear sheer, butt-revealing dresses every day, but I'm glad she waited for her birthday to reveal this jaw-dropper.
OK, time to look at more J. Lo butt: