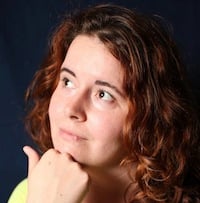 Filed by Aimee Lutkin

|

Nov 20, 2015 @ 2:20pm
Stylist Shelley Gregory has taken the latest trend for dying hair in varied colors and given it a pastel spin that turns those fibers growing out of your scalp into a yummy-looking treat. Gregory told Cosmopolitan that the braided gradations were in part inspired by a bakery she visited in France, where they were selling the beautifully displayed macarons:
I went there a few years ago and I remember loving the color palette. Everything from the crown molding and the way they display the macarons — it sticks with you. It's kind of like Disneyland, where it's magic. I wanted that feeling when you look at this hair.
In her Instagram feed she calls the style all kinds of things, so who knows if that's true or just an artist discovering her brand, but one thing's for sure: it looks delicious.
A photo posted by Shelley Gregory (@shelleygregoryhair) on
The braiding seems pretty important for the full effect, but even when down the color looks like it should be wrapped around a lollipop stick:
But the woven candy illusion is definitely where it's at:
A photo posted by Shelley Gregory (@shelleygregoryhair) on