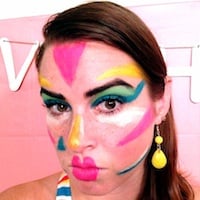 Filed by Ashley Bez

|

Sep 04, 2015 @ 12:02pm
She's definitely channeling her inner Kardashian-Jenner.
The ever-youthful former Disney kid Selena Gomez posted this picture of herself in some underwear. She's wearing one of those bras that has extra straps all over the place to draw more attention to the boob area. Plus she's leaning against a mirror. It's all very sexy. Selena does lots of hot things, like eat Flamin' Hot Cheetos while wearing a white robe, which is very dangerous because what if she gets it on the robe?
A photo posted by Selena Gomez (@selenagomez) on
The lingerie pic is to promote a "special fan event" for her upcoming album Revival, which leaves me with more questions than answers. What is a "fan event?" Will she be wearing underwear for it? Will she be giving away underwear? Will fans get to look at themselves in the mirror and contemplate how much they adore Selena Gomez? As a very sweaty person, the only "fan event" I want to attend is one where you get cooled off by a room full of fans until you're cold enough to eat some hot pizza.