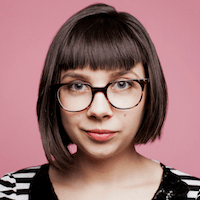 Filed by April Lavalle

|

Jul 21, 2016 @ 2:10pm
This is LA-based indie designer Tuesday Bassen, and she is calling out Zara for stealing her designs.
Bassen took on the herculean task of running her own small business with her unique clothing and accessory designs, and has amassed a decent-sized following after she working with such brands as Nike, Urban Outfitters, and Adidas. However, Bassen and fans of her work started to notice that conglomerate clothing retailer Zara has been not-so-subtly stealing her artwork.
After months of ripping off her designs, Bassen's lawyers sent a cease-and-desist to Zara, only to have the company respond with a rude and condescending letter. The following image from Bassen's Instagram shows the incriminating evidence of her stolen designs up top, with Zara's response at the bottom.