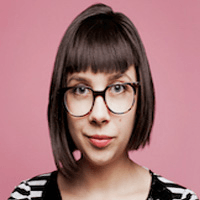 Filed by April Lavalle

|

May 10, 2016 @ 9:06am
Feast your eyes on this "smoothie art" from Instagram user Alison Grisé Wu. Grisé Wu combines different color palettes and textures to create these delicious-looking edible art pieces, and the Internet is impressed. So far, she has garnered about fifteen thousand Instagram followers, and those numbers are rapidly climbing.
According to Delish, Grisé Wu began making the picturesque smoothies when she was given a Vitamix blender from her grandmother as a wedding gift. She claims that the trick to getting a beautiful, layered smoothie is to start with a strong, creamy base. She makes something called "coconut nice cream," where she combines frozen coconut meat with nut milk to achieve an almost ice-cream-like consistency that's ideal for layering. The goal, it would seem, is to make your beverage look like one of those sand-art things they have kids make at camp.