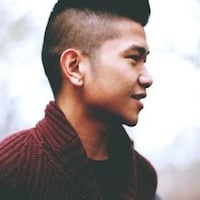 Filed by Keith Estiler

|

May 18, 2016 @ 5:28pm
When observing works of art inside a prestigious art gallery, one must resist the urge to lay a finger on some highly-coveted pieces, lest you receive a stern talking to, or worse. Artist Andrew Myers of Laguna Beach, California, however, encourages anyone who has the desire to touch his elaborate 3D portraits made by hammering screws in wood and then painting them.
In a short documentary called Please Touch the Art, Myers said that while he was showcasing his art at an exhibit, he encountered a blind man and his guide. The pair apparently exchanged conversations about the pieces in the exhibit. And when they arrived to Myers' work, the artist himself told the blind man to touch his painting.
"He walked up to it and put his hand on this piece and started feeling it, and all of a sudden he got this huge smile on his face," Myers said.