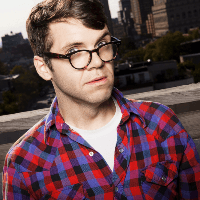 Filed by H. Alan Scott

|

Sep 08, 2016 @ 10:42am
High school senior portraits can be murder. The lighting, the forced poses, none of it seems to add up to a good picture. Which is why YouTuber James Charles took matters into his own hands when it came time for his big moment.
It should be noted that Charles is a 17-year-old makeup artist wiz. But even so, sometimes the lighting for those senior portraits is god-awful, as was the case for Charles' first round of photos. He told Mashable...
I got there and posed for the photos. They came out okay but the lighting in the room was bad and my highlight was NOT on fleek.
Instead of just settling for the bad pictures, as the rest of us had to do, he contacted the photographer and scheduled a re-shoot.
They totally understood and they let me come in and bring my lights with me that I have for my makeup photography... My ring light is what I use for my photos normally so I knew having it would make the highlight look better.