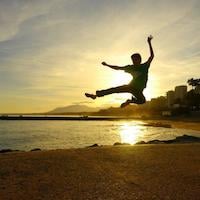 Filed by Mitchell Friedman

|

Oct 06, 2016 @ 9:33am
A teacher at Oak Park High School in Kansas City, Missouri gave his colleagues a special project: choose one student and tell them, honestly, how he or she made coming to school every day worth getting out of bed in the morning.
From the perspective of the student, the interactions go like this: "confusion, shock, tears/laughter, hugs/ambivalence."
Hey, these are high school kids, after all. But most of them do open up and tell their teachers how moved they are by the gesture.
If you can still read through your misty eyes, the reason behind the project is almost more compelling than the emotional video (but not really, because come on).
"Initially when we pulled the kids out [of class], they all thought they were in trouble," said Jamie McSparin, a teacher who runs the school's "program for at-risk sophomores and juniors" and who conceived of the project.