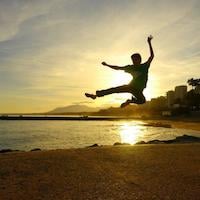 Filed by Mitchell Friedman

|

May 18, 2016 @ 5:30pm
As a graduating triplet, you know you've got an opportunity to tell a story in your senior quote. And even though twins, and to a greater extent triplets, are genetic freaks who should scare everyone who encounters them, the Durham triplets are merely endearing.
They used their senior quote to tell a knock knock joke.
The Durhams are a decidedly benign trinity. They had every opportunity to write a coded political message. Something like, say, "Fight" "The" "Power." But not everyone's a yearbook activist. They just went with:
"Knock knock."

"Who's there?"

"Not the triplets. We graduated."
Really makes you wonder how you'd use this opportunity yourself, if you also had two genetic replicas to help you tell a parting story to the rest of the senior class. Maybe "I" "Like" "Turtles"—if your triumvirate was especially hilarious. On second thought, maybe the Durhams' joke was fine.
This is not a set of quadruplets, but they had the same opportunity as the Durhams.