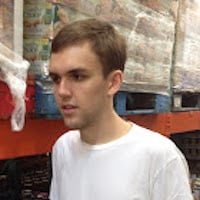 Filed by Bijan Samareh

|

Oct 21, 2015 @ 5:35pm
An autistic Applebee's employee worked three days a week for nearly a year without getting paid. Caleb Dyl, a 21-year-old from Portsmouth, Rhode Island, got a job at Applebee's through a job-placement program organized by the "Resources for Human Development" — a state-funded nonprofit organization seeking to "empower people as they achieve the highest level of independence possible." He started out doing an unpaid trial run as a prep cook. After they deemed his performance acceptable, he was supposed to start getting paid, but it just never happened.
https://www.youtube.com/watch?v=5S3CRANbUcw
His parents set up a direct deposit for him, and after they complained to RHD that he wasn't receiving money, his parents were told that the documents were misplaced and RHD requested they fill them out again. They did so, but still, no money came through.
RHD never contacted Applebee's about it. They only discovered what was going on when a news agency (Rhode Island's "Target 12") reached out, doing an investigation, and they "[felt] terrible" when they heard the news. RHD couldn't speak directly on the matter due to confidentiality issues, but made the following comment: