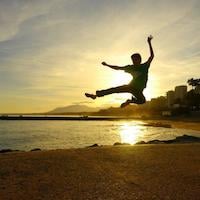 Filed by Mitchell Friedman

|

Aug 23, 2016 @ 1:37pm
A server at a lunch spot in Harrisonburg, Virginia opened up the checkbook to find that not only had her customers refused to tip her, they'd written a horrifying message instead:
Sadie Elledge, 18, explained to WHSV that the customers, a man and woman, were unfriendly to her throughout the encounter. "They wouldn't talk to me. They would just nod their heads," she said. Even stranger, the woman apparently had an accent herself.
A Valley restaurant server gets a nasty and racist surprise when she reads through a receipt left by customers. Tune in LIVE and hear what happened #WHSV

Posted by Isabel Rosales on Thursday, August 18, 2016
"I was born here but I'm Mexican and Honduran," said Elledge.
The owner of the restaurant refuses to have the offending couple back in her establishment. And several neighbors sent Elledge a letter, in which they "covered the tip and then some."
But Elledge's grandfather was probably the angriest of all. He gave a furious interview to The Washington Post, in which he explains how he posted the receipt to his Facebook account—which triggered a return to the restaurant by the offending couple. Elledge happened to enter the restaurant at the same time.