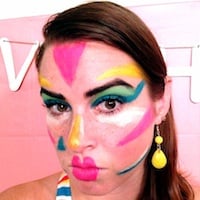 Filed by Ashley Bez

|

Jul 08, 2015 @ 4:55pm
A super annoying audience member made my day by giving me his phone number.
As a standup comedian, rarely do you get the perfect chance to exact revenge on a heckler during a show. However, when one of those moron hecklers decides to give you his phone number, it's basically hitting the jackpot. This guy yelled at me, and loudly talked to his table of friends throughout my whole set. Then he used the comment card from the club to write down his number:
Thanks for the feedback, Benjy!
I was not at all interested in dating Benjy, but he presented me with the perfect opportunity to heckle him right back. Here's how it went down:
I have Verizon, but I'm not really sure what he's getting at here.
He seems to be obsessed with phone service companies.
I creeped him out! Success.