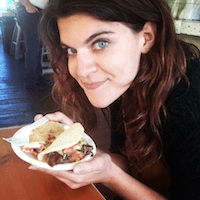 Filed by Kelsey Solywoda

|

Sep 01, 2016 @ 10:20am
Sometimes, in relationships, you mess up. And that's OK, as long as you own up to it and apologize. This girl's boyfriend just became the master of saying "Sorry."
Reddit user Nessie_Assassin (known IRL as Caite Grosh) recently shared this photo of an apology present she received from her boyfriend, Trevor Lagers, after they had a minor fight.
The caption reads: "The boyfriend got in trouble yesterday. He sent flours to my office today to apologize."
Can we get a slow clap for Trevor?
It'd be kind of impossible not to forgive your significant other after they came through with the funniest, most pun-tastic apology gift ever, which Grosh confirmed.
"He not only made my day, but also everyone in the office became a fan," she told The Huffington Post. "[He was] definitely forgiven."
#RelationshipGoals.