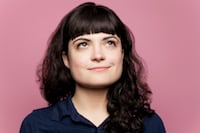 Filed by Jaime Lutz

|

Feb 04, 2016 @ 9:26am
An Australian man ranted on Kmart's Facebook page that the store's cheap prices and stylish products were driving a wedge between him and his fiancé​e—so the retail giant took him to (gentle, chiding) task. If that sounds like it might be a covert attempt at viral advertising to you, you're not alone, but hey, at over 6,000 shares, it's working!
The post reads:
Hey Kmart , I am a disgruntled fiancé .... I am sick of coming home at least once a week to a new candle holder , frame , pot or pot stand . Along with several other nice yet highly unnecessary items.
I need to know how many more designs can possibly be released? A man can only take so much and I am at my limit .... (She even suggested putting a light shade in MY garage ) ... I am sure the CEO's are rubbing there hands together along with all the divorce lawyers who would be getting a huge amount of business ever since you guys had a drastic change in the direction and target of your product line ..... I guess I'm not expecting a response nor an answer.... As I understand my relationship issues are not of your concern . Simply a rant that goes unheard here at home . Your products are too appealing and too cheap for her to resist and as a result it's putting immense strain on my life . Thanks for listening .