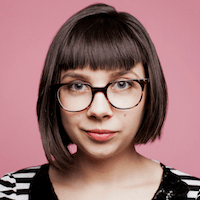 Filed by April Lavalle

|

Mar 29, 2016 @ 5:53pm
Last week, Twitter user @_blotty (aka Makela) brought readers on an unforgettable journey after chronicling how she hid her poop in her purse after a toilet wouldn't flush at her date's house. If you have yet to read the her legendary play-by-play of the situation, do yourself a favor and check it out here. The story, which was told over the course of several tweets on her account, simply began with:
I have a story to tell. It is about my poop

— misunderstood worm (@_blotty) March 22, 2016
Since the story was posted, Makela went completely viral. Her story has been shared hundreds of times, and seemed as if Makela would go down in infamy as the girl who kept a doodie-log in her handbag.
Wow. All of the hard work I put into being a hot girl is tarnished by one teeny tiny poop story. Now I'm just the poop girl

— misunderstood worm (@_blotty) March 22, 2016
But what if we told you that you could be hot girl and poop girl all at the same time? Instead of frightening suitors away with her poop story, it would seem that Makela has attracted more attention than she thought possible.
Besides being a expert poop-hider and a pretty captivating storyteller, Makela is also smokin' hot, confident, and a total selfie-queen.
My date cancelled on me but someone's gotta see that my underwear and bra actually match. So it's U pic.twitter.com/fd0vgAKVt7

— misunderstood worm (@_blotty) March 19, 2016