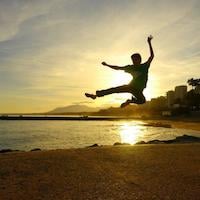 Filed by Mitchell Friedman

|

Jul 06, 2016 @ 2:30pm
If they're anything like the two Lindsay Lohans in Parent Trap, Sarah Mariuz and Leah Rodgers have been leading parallel lives since their happy days together in the fetal position. And, now it's time to congratulate them for their most impeccably twinly achievement: both had a baby son at 1:18 a.m., on the same day, in two different time zones.​
Rodgers gave birth Thursday morning in Denver at 1:18 a.m. Exactly one hour later, Mariuz gave birth in La Jolla, California at 1:18 a.m.
Oh, and if that wasn't proof that twins are genetically superior/capable of telekinesis, listen to this f*&#ing anecdote:
The sisters learned they were pregnant last year around the same time and planned to tell each other on Thanksgiving, which they were celebrating together. But as soon as Rodgers saw her sister, she already knew.
Yeah, they both got pregnant, both planned to tell each other at Thanksgiving, and then they didn't have to because Rodgers has what she calls "twintuition."