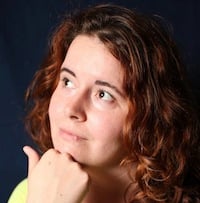 Filed by Aimee Lutkin

|

Jun 17, 2015 @ 9:15am
The Intergenerational Learning Center is a preschool that runs out of a senior care center.
The trailer above is for a documentary called Present Perfect, which follows this experiment in education. 5 days a week these preschoolers are brought together with senior citizens at Provident Mount St. Vincent. Together they tell stories, play games, make art and clown around.

Not just on Halloween. (screenshot via Present Perfect)
The filmmaker, Evan Briggs, is an adjunct professor at the nearby Seattle University. She told ABC News about the project and the incredible transformative power of bringing the very old and the very young together:
"[The residents did] a complete transformation in the presence of the children. Moments before the kids came in, sometimes the people seemed half alive, sometimes asleep. It was a depressing scene. As soon as the kids walked in for art or music or making sandwiches for the homeless or whatever the project that day was, the residents came alive."

Briggs has funded the project out of her own pocket and is now trying to finish it with a Kickstarter. She writes there that the project is a way to show how much the elderly still have to offer. The number of people over the age of 65 is about to dramatically increase in America with the Baby Boomer Generation and the way our society deals with the elderly needs a serious overhaul. She writes:
Shooting this film and embedding myself in the nursing home environment also allowed me to see with new eyes just how generationally segregated we've become as a society. And getting to know so many of the amazing residents of the Mount really highlighted the tremendous loss this is for us all... It's a great example of how we integrate the elderly into society.