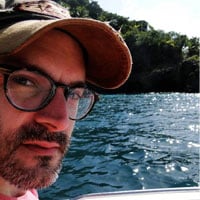 Filed by Dennis DiClaudio

|

Jun 11, 2015 @ 2:44pm
Find out what young white men think about boobs!
I get it! Everybody has preferences. You're allowed to like what you like, and you're allowed to not like what you don't like. That said, I'm not sure how much the world needs a video featuring a bunch of dudes explaining in minute detail why they prefer the curve of this hypothetical breast to the curve of that hypothetical breast, or why this breast is too big while that one is too small.
Was society really clamoring to know the boob preferences of 20-something white dudes? I thought that was pretty easily discernible from that thing we call "85 percent of media." Is it very hard to guess what kind of boobs the guys interviewed generally preferred? I'll bet you can do it. Call it a hunch, but I think you'll be able to work it out before watching the video.
I can't say exactly why this video bothers me more than the one in which the women draw "the perfect penis." Maybe it's because wangs aren't thrust into our faces every day, from every direction (thankfully). Maybe it's the glee with which most of these guys cast judgement over all of boobdom. Or maybe it's just that it's kind of lazy for a "sexperiment."
What this really needs is variety. Let's get some older guys in there, and how about some different races? Maybe a lesbian or two. There are so many kinds of boobs in the world, and so, so many ways to enjoy them. Some representation of that would go a long way toward making this less annoying.