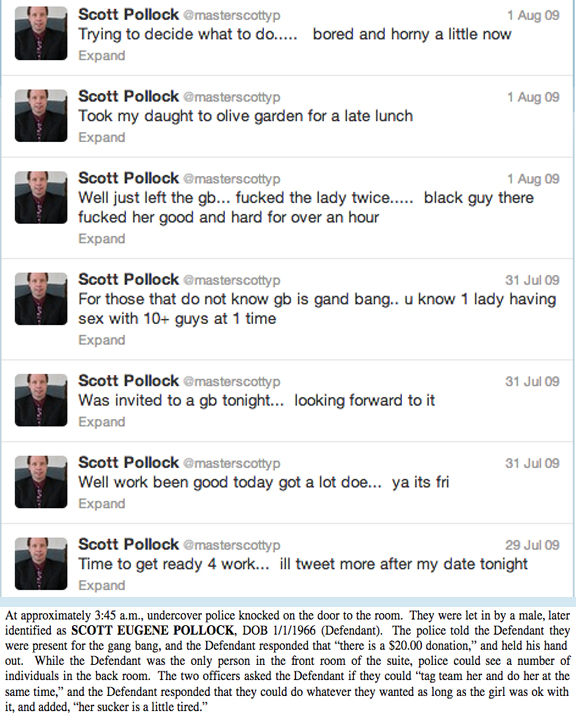 Police told him they were there for the gang bang. Defendent had never seen "Old School."
Rule number one of organizing gang bangs in unsuspecting hotel rooms: don't make business cards that read "Scott, Gang Bang Organizer," because you'll eventually drop one in the parking lot of the hotel and they will Google you.
That was what brought the downfall of this criminal mastermind, who had previously kept his gang bang organizing activities so secret, they could only be read by absolutely anyone on his Twitter account, @masterscottyp. As you'll notice from his feed, the gang bangs are but the spice to the ordinary day-to-day interactions he has with his daughter and with (presumably non-fictional) dates.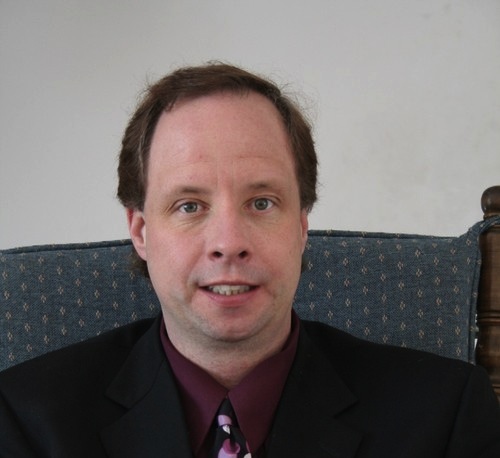 Replacing thank-you notes as the reason white people don't go to orgies since 2007.
The police report is hilarious. My favorite part is that, apparently, when police officers want to bust your sex party, they're allowed to stand in the corner and watch for a minute first (way more NSFW detail in the full report here):


Gotta keep those condoms chiled, guys. Especially #30-45. Really helps.
This story was first picked up by CityPages, check out their coverage for more.
Oh, by the way, his most recent tweets are all defending George Zimmerman, being sad about missing the premiere of Grown-Ups 2, and hyping the movie The Internship. YEP: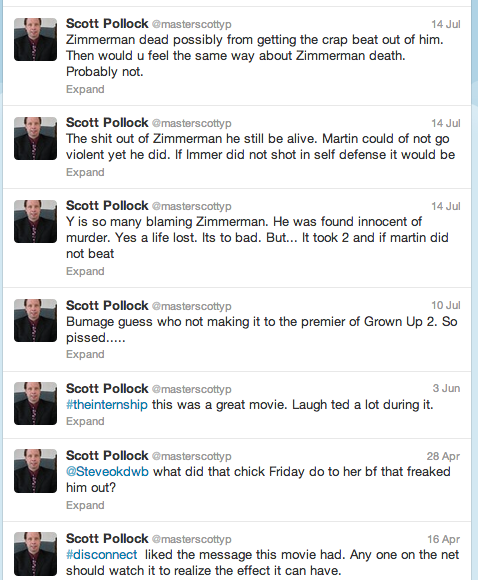 Grown Ups 2 is a great post-GB movie. You've already got 12 guys, why not 4 more?
(by Johnny McNulty)