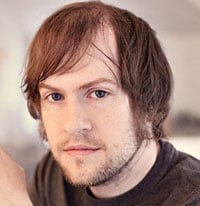 Filed by Brian Boone

|

Jul 02, 2016 @ 10:10am
You're in the throes of passion. Body overtakes mind. Emotions run high. Hormones charging as you both climb toward ecstasy. And then, caught up in the moment, one of you says something stupid. Something really, really stupid. It happened to these redditors, and it'll happen to you.
1. User zackhankins74 should've gone with waffles, which are well known to be the official breakfast food of lovemaking.
"Those pancakes really slowed you down"
2. With a name like torosbulba42 that includes the Spanish word for bull, you can expect some cow noises.
My girlfriend mooed at me once. We had been going at it for a while and there was no sign of silliness. It was perfectly timed.
3. Cool, the ghost of JFK is posting on Reddit as _Shallot_ about his sexual exploits with the ghost of Marilyn Monroe.
During a one night stand in college, the girl I was having sex with was on top of me and sang the song "happy birthday" in its entirety while haphazardly bouncing to the beat of her own panting. Every time I attempted to interject playfully or reposition our beast with two backs in hopes of putting an end to this seemingly satanic rhythm, she would force me back down. Hard. It was not my birthday.