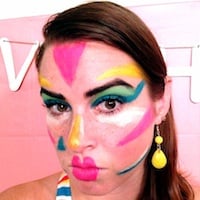 Filed by Ashley Bez

|

Jun 10, 2015 @ 1:56pm
Here is evidence that engagement photos don't have to make you roll your eyes like an angsty teenager who broke curfew.
May we all be lucky enough to have @AmySchumer jog by and photobomb an engagement photo: http://t.co/Yej1zdOIrH pic.twitter.com/U2y8kSX4rZ
— New York Magazine (@NYMag) June 10, 2015
Unlike the adorable couple pictured above with the Queen of Comedy Amy Schumer, some photos of newly engaged couples are so annoying they'll make you wish the couple got divorced before they even tie the knot. What a terrible thought! I'm sorry for even thinking that, but come on, you know exactly what I'm talking about. Wedding photos don't have to be such a serious, lovey-dovey barf-fest! (Yes, I'm single). Couples who express themselves, and even bring a little humor into their photo sessions will be rewarded with a lifetime of happiness, and also with their friends not hating them. Especially their single friends.
Here are a bunch of couples who are celebrating their love in ways that will renew your faith in the institution of marriage.
1. The couple who works out together stays together.

(via imgur)
This couple takes the concept of the beach engagement photo to the next level, or whatever level involves hilariously photoshopping bodybuilder abs on the groom-to-be.


2. These two dogs' humans are tying the knot.


(via imgur)
Dog owners know that the most important part of any relationship is the one with their dogs. The only thing better than this would be a photo of four dog paws, announcing a dual dog-wedding.