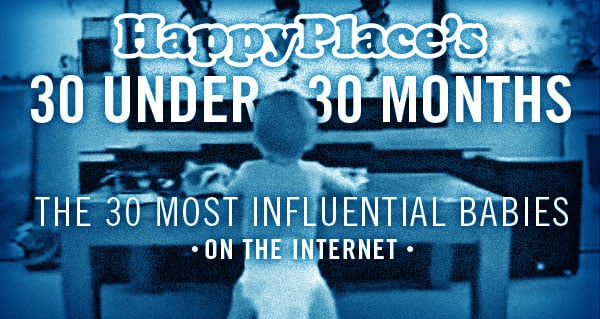 Our series on the 30 Under 30 Months: The 30 Most Influential Babies On The Internet continues with babies 11 through 20. Last week, we brought you babies 21 through 30.
It's difficult to narrow the list down to just 30 influential babies, so we use a variety of metrics including cuteness, ingenuity, and what we like to call the "wah-factor," to determine which babies deserve to be included. Their tireless work making us laugh, grimace, and go "aww" is, quite simply, exceptional.
20. Baby Tries To Say "Banana."
Why this baby matters: This baby isn't afraid to look stupid for the cameras to get a laugh. She knows, of course, that banana is a three-syllable world, but her impish little heart is full of the possibilities of making her father chuckle by saying something ridiculous. Could she be the next Lucille Ball? Overall score: 77/100.
19. Baby Teaches Dogs How To Crawl.
Why this baby matters: In the most fundamental sense, this baby is a leader. Whither he crawlest, there his dogs crawl. When he stops, they stop. When he goes, they go. His sheer charisma is astonishing. Overall score: 77.5/100.
18. Baby Tricked Into Eating Vegetables By Her Dad.
Why this baby matters: Could this baby be the answer to our nation's obesity epidemic? We already know American children test less well than children in other countries. Are they stupid enough to fall for this trick at even the age of 9 or 10? Maybe we can use their gullibility to our benefit! Overall score: 79/100.