Filed by Myka Fox

|

Jul 17, 2014 @ 10:35am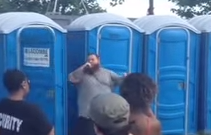 Straight out of Flushing.
Action Bronson is a rapper on the make.
The Queens lyricist was in the middle of performing "Shiraz" at Ottawa Bluefest when nature called. Instead of holding it, Bronson rapped his way through what looks like a VIP section to a row of blue port-a-potties and took advantage of the first one available. All the while he held the mic strong and continued rapping, never missing a beat.
He emerged from the temp toilet victorious, slinging verses and flinging toilet paper, to uproarious cheers.

Check out Bronson's tour dates to see where he's going to pee next.
(by Myka Fox)