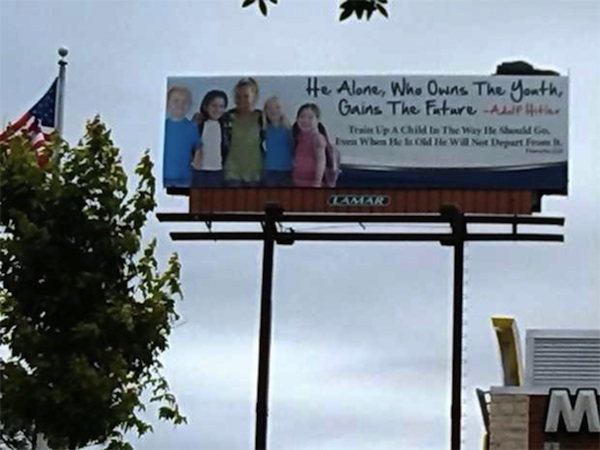 Yep, should have gone with the Hoover quote. (via Julie Burns/Ledger-Enquirer)
A church in Opelika, Alabama is under fire this week after they used a quotation from noted mass-murderer Adolf Hitler on a billboard advertising their youth programs. The church is Life Savers Ministries, and the quote is "He alone, who owns the youth, gains the future." Underneath the Hitler quote is a quote from Proverbs (which seems like maybe a better source, since it's in the Bible and also not responsible for the deaths of six million Jews): "Train up a child in the way he should go; even when he is old he will not depart from it."
Guys, I wish I could offer you some answers about this. I really do. But it is pretty much baffling that the church thought it would be a good idea to use a Hitler quote on their billboard. I have no idea what's happening here. Are they trying to say that if their youth ministers don't "own the youth," then that leaves them vulnerable to Nazis?
A statement from the church to the Ledger-Enquirer offers zero insight. The church's founder James Anderegg says, "We are pulling the billboard and certainly never intended to cause confusion...Herbert Hoover would have been a far better one to quote when he said, 'Children are our most valuable resource.'" Yeah, Herbert Hoover would have been good. Or like, pretty much anyone except Hitler.
(by Shira Rachel Danan)