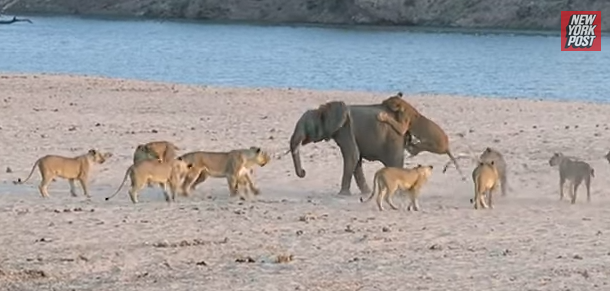 "You may never see this again in your life."
A not-so-defenseless baby elephant narrowly escaped attack by 14 lions after being separated from his mother. This worrying video was caught by journalist Jesse Nash, Long Island University Art Professor Dan Christoffel, Naturalist Steve Baker and Australian TV personality Nina Karnikowski while they were on safari.
Unable to help the young hero, we can hear them coach the one-year-old pachyderm to run into the water and remark that the lions have no intentions on giving up. At one point, you can hear one of the men wonder, "where are the other elephants, for god's sake?"
Innocent, the guide who was driving the group on safari, told the NY Post, "In the 30-plus years I have been a safari guide in Zambia at the Luangwe Park, never have I seen anything like this. We were all so worried the baby elephant would be killed right before us."
At its worst, things looked pretty grim for our hero, with three vicious lions on his back. Fortunately, he managed to shake them off and cleverly used his height as an advantage in the water.
The brave baby is now reunited with his herd, and has since been renamed for his acts of courage.
"We've named the little fella Hercules," said Innocent. "What a fighter."
(by Myka Fox)