Originally published: May 16, 2014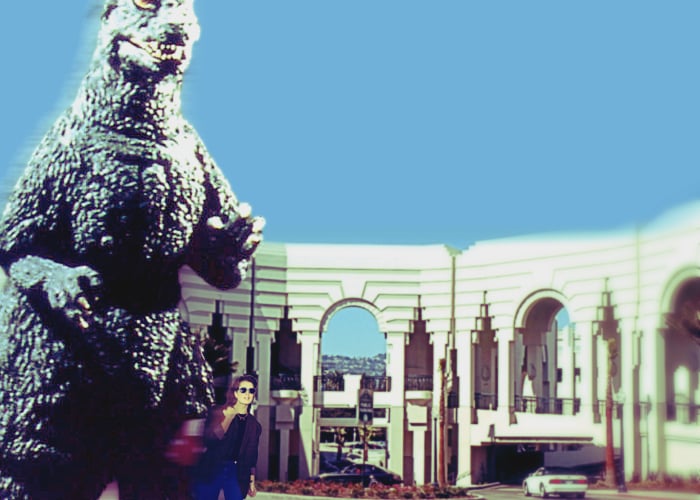 Godzilla with Brooke Shields in Beverly Hills. An item from '88-'89, the two remain good friends.
With all the hype around tomorrow's new Godzilla movie, Godzilla, it's easy to forget that everyone's favorite atomic abomination has had more ups and downs than Mothra being tossed around a Tokyo suburb. It's almost hard to believe he was a child actor when the world first fell in love with him, standing a mere 150 feet tall and barely able to push over a Japanese apartment block. 60 years later, he's 355 feet tall and in his physical prime.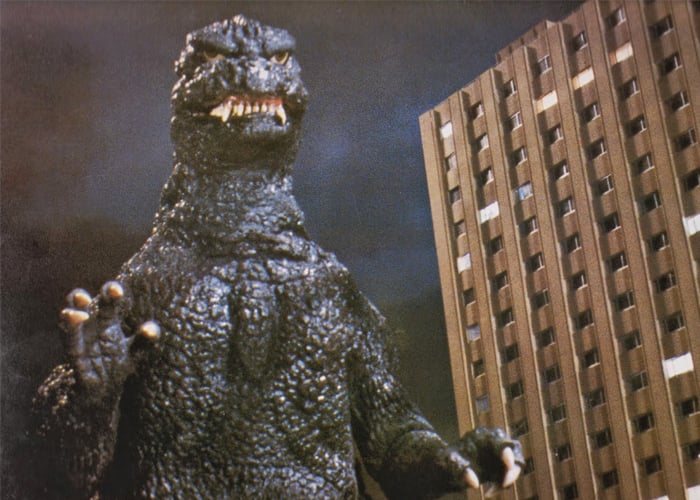 Some have wondered whether turning "Zilly" into an actor at 6 months old was a good idea.
Although he's bigger than he's ever been, physically, it's doubtful the King of Monsters will ever reign supreme the way he did when he was younger, but he's OK with that. "I'd rather do one film every 15 years or so that I really enjoy than try to crank out things I'm not proud of just to stay in the public eye," said the 60-year-old nuclear mutant in a recent interview with Vanity Fair.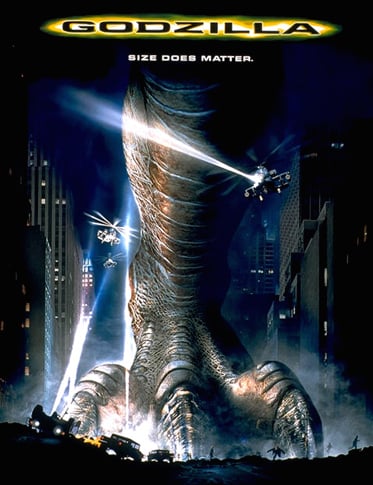 The peak of Godzilla's career came with the release of his 1998 film, Godzilla, his first film with a major Hollywood studio. Expectations had never been higher: the film had a budget of $125 million, a major change for an actor used to making charmingly low-budget B movies often relying on his physical comedy skills.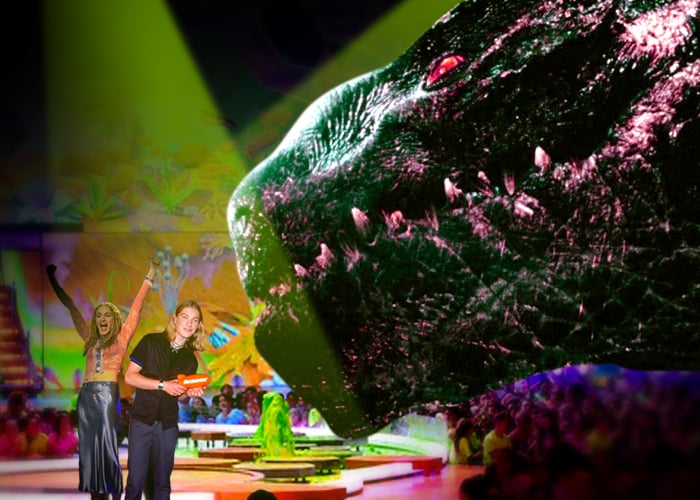 Godzilla at the Nickelodeon Kids' Choice Awards during the height of his fame.
The movie was a worldwide success, but aside from his diehard base of children who love monsters, it was a critical bomb. The film's other star, Matthew Broderick, would not headline another successful movie until The Producers six years later, but Godzilla's off-screen antics made him positively radioactive to directors.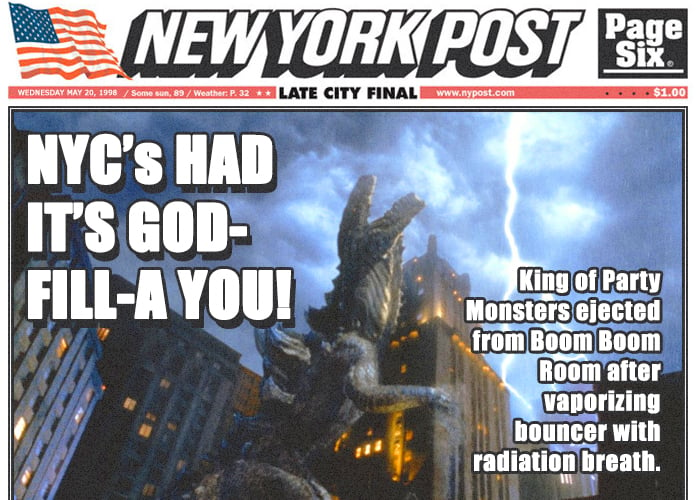 Depression combined with alcohol and drugs to form an unstoppable juggernaut of reckless behavior that destroyed billions in property...and almost his life. Many blamed his behavior on the treatment Godzilla received as a vulnerable child monster actor, something that eventually led him to befriend his one-time archenemy Corey Haim. Nevertheless, it was growing harder and harder to justify his actions. Friends, family and even Oprah tried to penetrate his armor of denial and self-destruction, but not even a video of his sobbing former lover, Brooke Shields, begging him to seek treatment could halt or even slow his vodka and MegaPercocet-fueled rampage.

His descent into pariah status began with a 2005 interview with the National Review, during which he claimed the terrorist attacks of September 11, 2001 were a natural consequence of US foreign policy. "When you create a monster like Al Qaeda in Afghanistan to fight the Soviets, don't be surprised when it unexpectedly shows up in New York one day. Trust me."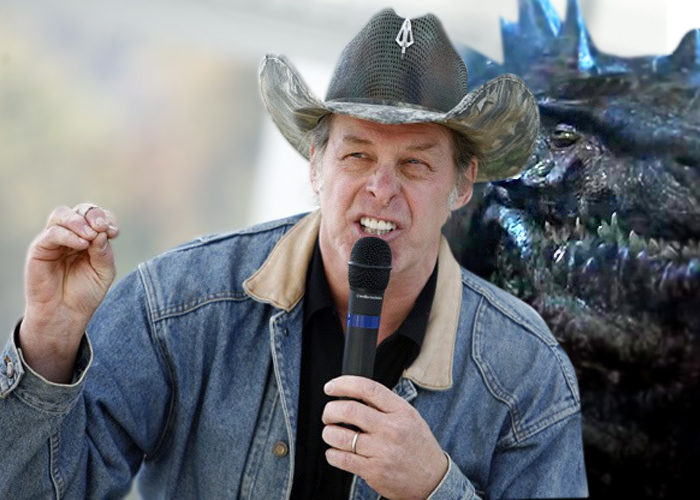 From left to right: Ted Nugent, Godzilla.
Indeed, many wondered whether it was the public who had created a monster by blasting Godzilla with a deadly dose of attention. The backlash drove 'Zilla deeper into the bottle. By the time he suggested that President Obama had been born deep on the seafloor near the Marianas trench, he was a laughingstock. What fans he had left ran screaming from him into the hillsides.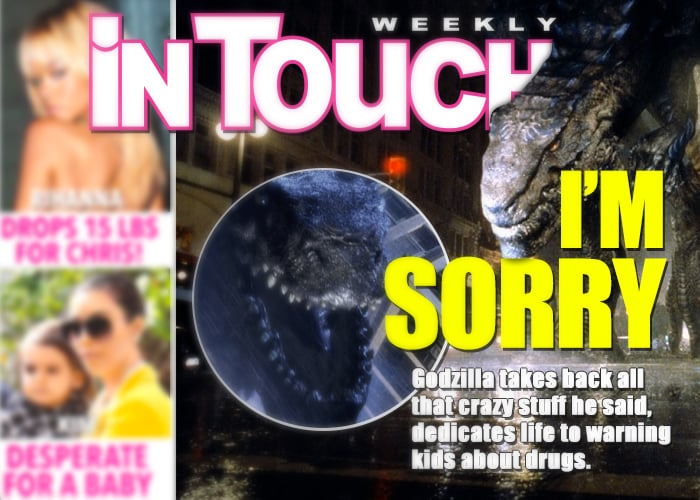 Then, the unexpected happened: Godzilla checked into the Cliffside Malibu rehab center. He stayed there for almost a year, saying he would not leave until he could be sure he would never again become a reflection of humanity's dark side.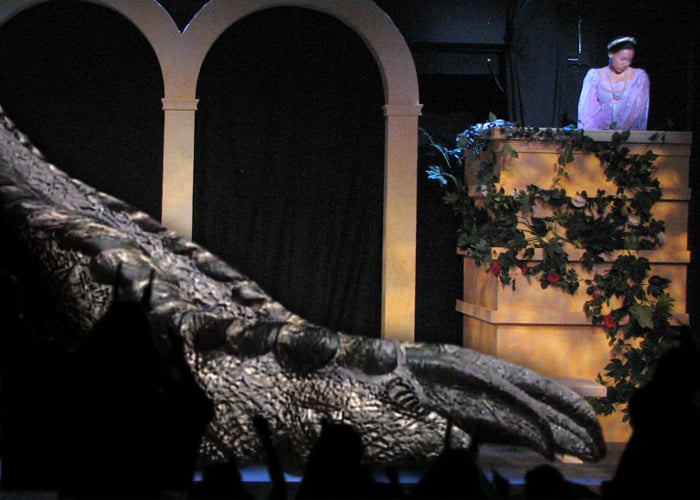 Godzilla in Romeo and Juliet at the Colonial Little Theater in Johnstown, NY.
He took work wherever he could get it. When asked by TMZ whether doing summer stock in upstate New York was humiliating, he seemed happier than he had been in decades: "I'm just enjoying acting again, and doing it just for my pleasure and for the pleasure of the audience. I feel like I've been given a new lease on life."