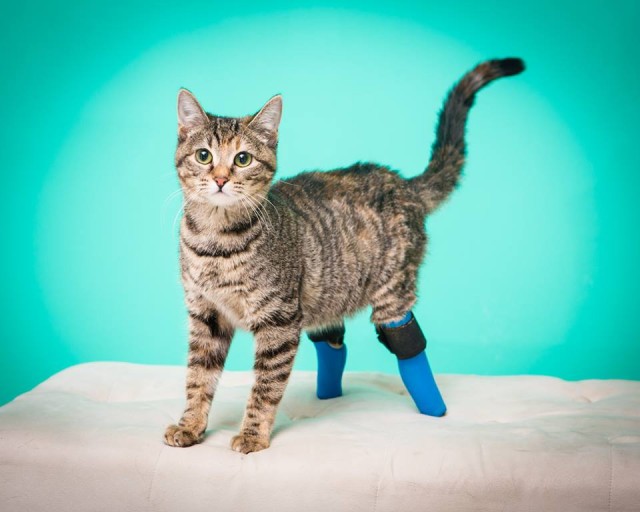 Hi, my name is Boots and I'm a badass rescue kitten. (via BuzzFeed)
This adorable cat was dropped down a night box at a municipal shelter with her sister at only 10 days old before they were rescued by Life is Better Rescue. Boots was missing her back feet due to what looks to be an accident (maybe getting closed in a door or a reclining chair), so a vet in Denver created some blue slippers for her to walk on while she grows before she can get proper prosthetics.
She's doing more than just walking, though, she's bounding down stairs. Her human caretaker, Megan Brocato, posted a video of Boots in action on youtube, calling the feat a "flying handstand."
I bet you can't watch that just once.
Boots is ferociously adorable and determined, and Life Is Better Rescue says that Boots will eventually live a normal cat life, but it will take over a year and a small chunk of change. You can help her by donating through Colorado Gives or Paypal.
And, because it exists, here's a pic of Boots in her new slippers at 6 months old: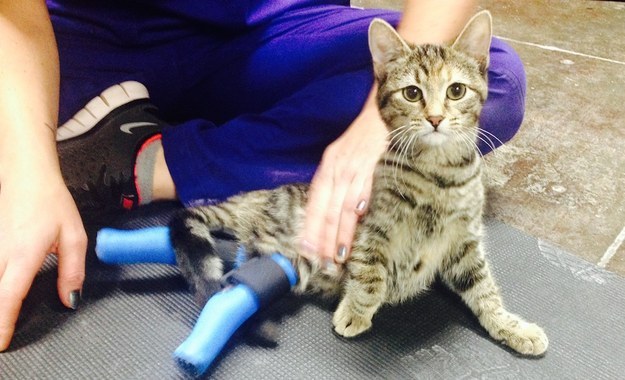 These boots were made for flying down stairs. (via BuzzFeed)