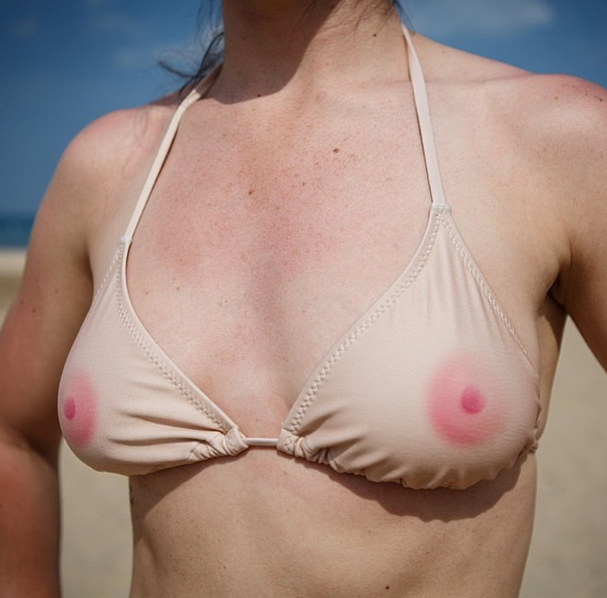 Scandalous. Dye that fabric beige immediately, before the children see. (Via Instagram)
Pissed off that according to Instagram and local laws, men's nipples get to streak free in the hot summer sun while your lady-nipples are forced to hide away in shame, sweating and wilting under a piece of fabric? Kind of feel like if you can't expose your nips, you should at least expose the hypocrisy that's making you keep them under wraps? Dude, strap on a TaTa Top.
Billed as "The breast bikini ever," the TaTa Top was designed by Robyn Graves and Michelle Lytle after hearing the story of two women visiting Chicago from Amsterdam who were forbidden to swim in Lake Michigan in their customary no-problem-in-Europe bathing suits (bottoms, no tops). Per the site's blog:
For whatever reason, at that moment, my reaction to the story was anything but acceptance. I don't know if it was because this was the first time it had been presented to me in that way or if this came at a time when I had been on a real kick with challenging authority and societal norms...Whatever the reason it really hit me. Why not? Why can't girls be topless? If you really think about it, what's the difference between a man's nipples and a woman's? Is it really just the extra breast tissue? ...look at this situation as if you were explaining it to an alien who newly arrived on Earth. Explain why women have to cover up their chests, but not men. What reason would you give?