#CharlieHebdo : l'hommage de notre dessinateur Nono pic.twitter.com/CmTm41U1QH
— Le Télégramme (@LeTelegramme) January 7, 2015
This morning in Paris, three gunmen entered the offices of the French satirical magazine Charlie Hebdo and starting firing. Among the 12 people killed in the terrorist attack were four of the magazine's cartoonists, including the editor of the paper.
Previously, in November 2011, the offices had been firebombed after publishing a caricature of the Prophet Muhammad, and the decades-old magazine was known for its provocative criticisms of Islamic extremism.

Many cartoonists around the world have offered their condolences and expressed their sadness and anger in the best way they know how.
Please, RT! #CharlieHebdo attack has another victim! Via @MiddleEastMnt #ParisShooting pic.twitter.com/PNesB88POL
— Carlos Latuff (@LatuffCartoons) January 7, 2015
#CharlieHebdo pic.twitter.com/GNh2ZAEArf
— Tommy dessine (@Tommydessine) January 7, 2015
Translation: "Oh no, not them."
Charlie Hebdo. Nooit opzij. pic.twitter.com/MJwGKPQ8jU
— Joep Bertrams (@joepbertrams) January 7, 2015
#CharlieHebdo pic.twitter.com/15O4YC2KWg
— Ruben L. Oppenheimer (@RLOppenheimer) January 7, 2015
Can't sleep tonight, thoughts with my French cartooning colleagues, their families and loved ones #CharlieHebdo pic.twitter.com/LqIMRCHPgK
— David Pope (@davpope) January 7, 2015
Atentado a Charlie Hebdo. http://t.co/TBlz9pBuI7 pic.twitter.com/3UrweOEYK0
— Bernardo Erlich (@berlich) January 7, 2015
Translation: "The world has become so serious that humor is a risky profession."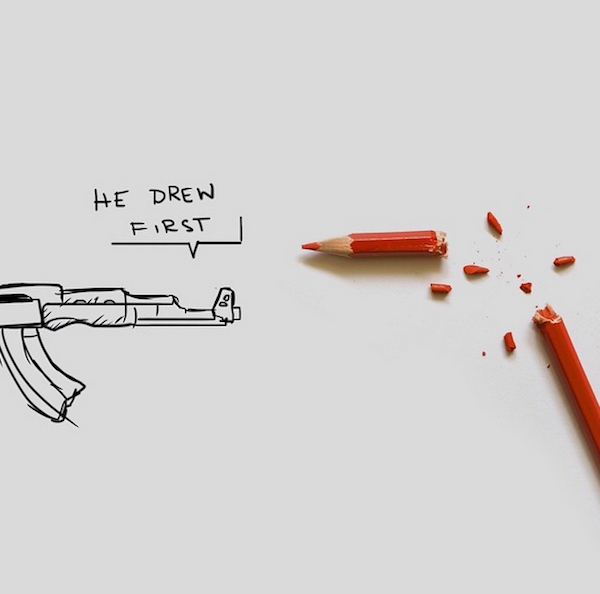 (via Rafael Mantesso on Instagram)
Here's The @Independent cartoonist's response to the #CharlieHebdo attack: pic.twitter.com/4H4VWDS4qN

— amol rajan (@amolrajan) January 7, 2015
Last message from #CharlieHebdo cartoonists to their killers. My #cartoon pic.twitter.com/yRnaWVcOjf

— MANJUL (@MANJULtoons) January 7, 2015
Still mortified about our fallen cartoonist colleagues, but free speech will always win. #CharlieHebdo #JeSuisCharlie pic.twitter.com/GHejOEXHwG

— Rob Tornoe (@RobTornoe) January 7, 2015