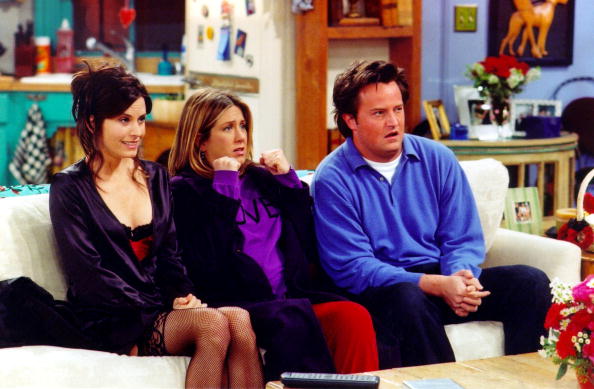 I guess that no one told you life was existing at all times simultaneously, well I guess Stephen Hawking tried to tell you but you were too busy watching Friends.
(via Getty Images)
Now that the entire series of Friends has been re-birthed on Netflix, you are filled with the desire to write a startling think-piece about how the series featured a struggling generation X, yet ironically foreshadowed the millennial generation's trend of living in expensive NYC apartments without being gainfully employed. Unfortunately, it will take roughly 92 hours to get through the whole series and who has time for that when you are a busy Gen X-er with a real job?
One person who is either genius or psychopath has solved this issue by creating what I am calling Quantum Friends. YouTube's Benjamin Roberts has synced every episode of of Friends season one so that you can experience them simultaneously.
Rejoice as sometimes the show starts with the theme song (clap, clap, clap, clap), while concurrently watching a cold open! Skip ahead to find that at about 9 minutes and 40 seconds in, the show almost almost always features Ross or Chandler getting big laughs in Central Perk! Keep watching and trip out on the psychedelic experience of all of time existing at once, just like it really is, say some seamstresses who think time and space is a fabric. Laugh! Laugh as you remember how all of the episodes start with "The one where..." which is a subtle metaphor for the oneness of the universe!