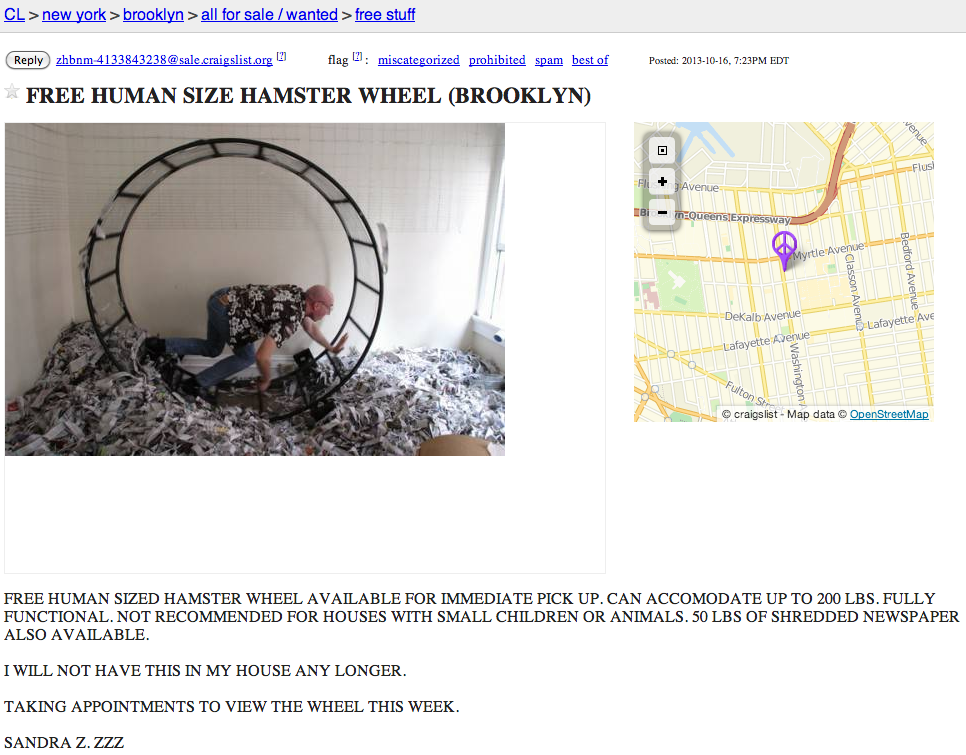 I have a feeling that Sandra Z also got rid of (dumped) the human-sized human in that photo.
Hipsters have been in Brooklyn for a long time now, and some of them are getting older and less inclined to have a human-sized hamster wheel (HSHW) in their house. After all, that's where the artisanal whittling studio is going to go. At least, that's what I assume is going on in this all-caps extravaganza from the Clinton Hill neighborhood of the City of Neighborhoods, which is indeed somewhere hipsters go to retire and get rid of their HSHWs. I'm also assuming that Baldy McHawaiianshirt in the photo there got thrown out faster than 50lbs of shredded newspaper. Literally. The newspaper is still there. Anyway, I hope he and the HSHW find a lovely home. Although, I do have to disagree with her saying this isn't suitable for houses with animals. What if you have a human-sized hamster?
It just occured to me that I haven't wondered once yet why there is a human-sized hamster wheel. I suspect I have lived in Brooklyn for too long. It's probably for... I dunno it just seems like a cool thing to have. I'm going to go craft something.
(by Johnny McNulty)