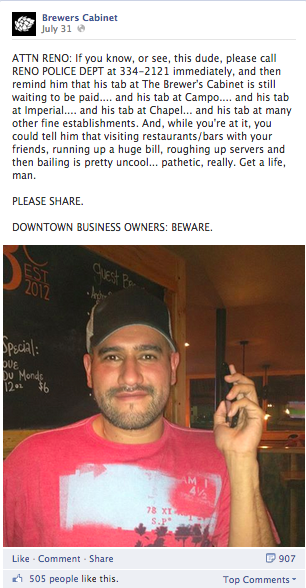 His Zagat rating - Service: 23. Food: 25. Willingness to let dickheads skip out on the bill: 0!
Before Saul Zelaznog was allowed to leave the Brewers Cabinet in Reno, NV, purportedly to retrieve his wallet to pay his $100 restaurant tab, one of the servers was smart enough to snap the above photo. When Mr. Zelaznog failed (or declined) to return with the money for his bill, the restaurant decided to post the photo on Facebook, so everyone could enjoy his "I'm just a normal adult who likes to dine-and-dash like teenagers do" facial expression.
That's how they found out his name was Saul Zelaznog. The post went viral and other restaurants quickly chimed in with their own accounts of the hungry thief with the jawline that's beginning to sag under the weight of so many stolen hot apps.
Zalaznog told the Reno Gazette-Journal, "They're acting like I ran out of there; I was going to be back to take care of my tab." He added that, as of Wednesday, he had asked his family to wire him the money to pay the bill.
Okay, for someone who seems to have made dining-and-dashing his "thing," he should have better excuses lined up by now. Leaving your wallet in your other pants is a good go-to. Maybe even, "I've had credit trouble and my cards were declined." Sure, America's a tough country to stay solvent in. But If you have to reach out to loved ones to have money wired to you to pay a restaurant bill, you're basically saying you're absoluely penniless. That's not the time to go out for a big meal. "I don't have a dime to my name and my only hope of finding sustenance in the future is if the Western Union processes that late-night wire transfer from my cousins. I should treat myself!"