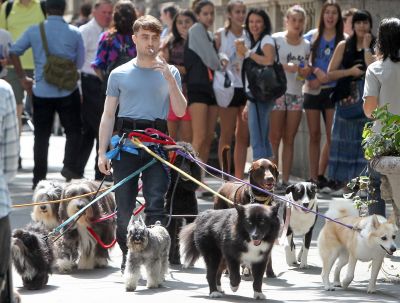 Hard to say who is drooling the most here. (via DanRadcliffe)
Daniel Radcliffe was seen smoking a cigarette while walking 12 dogs in New York City's Bryant Park on Monday. Before you go out and buy a dog in hopes that Harry Potter will walk it, the suspicion is that this was part of a cameo he is making in the upcoming Judd Apatow film Trainwreck. Radcliffe was recently added to the cast on the movie's IMDB page, but Apatow has been notoriously tight lipped about the project.
When freakishly polished fan site DanRadcliffe.com (when does a fan site become stalking evidence?) tweeted at Apatow to confirm the rumor, this was the response:
"@danradcliffecom:Dan to cameo in Trainwreck? READ: http://t.co/gGW5o43HIB pic.twitter.com/D2XcNoHeEU" Not true! He was just walking his dogs

— Judd Apatow (@JuddApatow) June 30, 2014

Just walking his dogs? I'd say thats a 'yes' to him being in the movie. Also, this picture of Radcliffe sitting with Apatow on the set of Trainwreck is a pretty good clue, too.