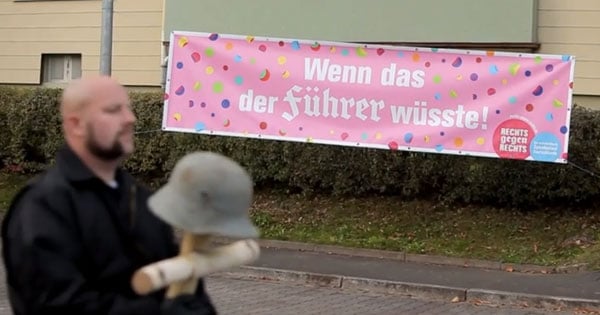 "What would the Führer think?"
Imagine if busloads of racist assholes descended upon your home town every year to march through the streets in support of global awfulness and there was nothing you could do to stop them. How would you deal with a situation like that? I mean, there's only so many times you can yell, "You suck!" from the sidewalk before you start to feel like maybe you're wasting your time.
This is exactly the problem the residents of Wunsiedel, Germany experienced before they came up with an ingenious way to a group of very persistent neo-Nazis into undermining their own intolerant efforts. And that's how the Nazis Against Nazis Walkathon was born.
For every meter the very confused-looking bigots walked, €10 was donated to a program that helps people get out of dangerous hate groups. You know, like the one they're all in.
In the end, the very confused bigots managed to raise €10,000 (or about $12,000) to oppose themselves. Those are some extremely dedicated extremists!