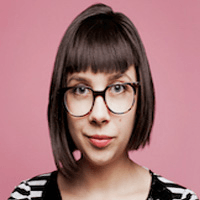 Filed by April Lavalle

|

Jun 23, 2016 @ 12:11pm
A Muslim woman was allegedly brutally attacked by a random bigot while she was out grocery shopping with her newborn baby earlier this week. Here is a picture of the random bigot below, mid-finger wag, wearing a t-shirt that says "Canada" on it. That's right, this incident did not happen in the US, but in our supposedly more-friendly neighbor to the north. So yeah, if you were planning on moving to Canada in the case of President Trump, tough luck—terrible awful dumpster people are everywhere.
The 25-year-old mother, who is on that sweet extended Canadian maternity leave from her job as a pharmacy technician, was grocery shopping with her four-month-old son when a woman started muttering things in a foreign language and glaring at the new mom. When the Muslim woman asked what it is that she wanted, she says the other woman approached her and her baby and began cussing loudly at her, and then spat on her. Initially onlookers tried to intervene, but the young mother said that no one helped her once the confrontation got physical, which is not very "Canada" of them.