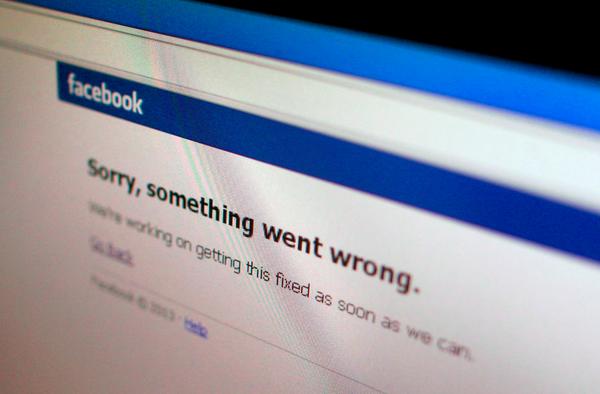 The horror.
Not sure if you heard the news, but Facebook was down today. Inaccessible, a mirage. A void where once there was connection. People took it...well.
Is Facebook down?? What if someone from high school got fat and I don't know about it??

— mah ree nah (@marinarachael) August 1, 2014
Facebook has been down for 15 minutes and I'm freaking out because I don't know if anyone is having babies, eating food, eating babies, etc.

— Schindizzle (@Schindizzle) August 1, 2014
Just a heads up, Facebook is down so expect a call any minute from your weird aunt.

— Drew Schnoebelen (@Dschnoeb) August 1, 2014
The media did what they could to address concerns...
This is the world we live in now (via @jordan327) pic.twitter.com/RDmAeez9J4

— Mic (@micnews) August 1, 2014
You're not going crazy: Facebook is down http://t.co/ijYyKTsTAq pic.twitter.com/grxtvczNEs

— Gizmodo (@Gizmodo) August 1, 2014
Some people imagined the worst...
THE YEAR IS 2016. FACEBOOK DOWN FOR TWO YEARS NOW. AMERICA'S NEW MOMS ROAM THE STREETS. IS MY BABY PRETTY? THEY SAY. PLEASE LIKE MY BABY.

— Mark Agee (@MarkAgee) August 1, 2014
#facebookdown This $600 smartphone is now worthless.

— Crutnacker (@Crutnacker) August 1, 2014
My Facebook is still down & I'm getting a really odd error message. pic.twitter.com/SloFeLT0ES

— Jason Gore (@sonicdork) August 1, 2014
Others looked to the bright side...
Yesterday on a whim I bought shares of stock in "tweets about Facebook being down" and now I'm rich!

— John Frusciante (@JohnJFrusciante) August 1, 2014
If Facebook stays down, the internet is better... Right?

— Kevin Hines (@kevhines) August 1, 2014